Mor-Sand Filter — An overhead camera tracks the movement of visitors who use their shadows to guide virtual water drops flowing over a cliff into the filter where parasites and bacteria are removed. Clean water fills a cannister which rises to the top of the screen and keeps track of the total amount of water filtered. The Mor-Sand filter removes 99% of bacteria and viruses from water.
Support Clean Water with the Mor-Sand Filter in Africa HERE
Jaipur Foot is an artificial limb given away for free to victims of landmines, polio, or other accidents at the BMVSS Center in Jaipur, India.
Sign the petition to ban landmines HERE
One square meter of this low-cost plastic mesh (originally used as shade material for plants) can collect approximately 5-8 liters of water water from fog, rain or dew per day. Visitors will be able to use a 1 minute calculator to discover their water use, compare it to the world average and see how many mesh panels it would take to accommodate their lifestyle.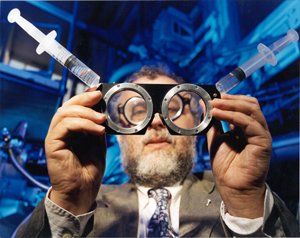 Adaptive Eyecare — These flexible lenses mimic the optics of the eye. The wearer simply turns a dial to add more or less liquid to change the power of the lens until they can see clearly.
Solar Sailor — This unique hybrid design integrates solar panels into "solarsails," pivotally mounted wingsails with solar panels that work as sails and solar collectors. The solarsails track the sun for optimal solar collection and the wind for the most sail power.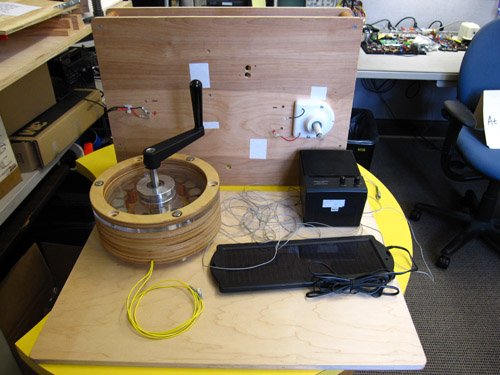 The Freeplay Foundation distributes these radios that run on wind-up energy and solar power to help people escape poverty by giving them free access to news, health information and broadcast-education. Kristine Pearson founded Freeplay initially to help African children orphaned by AIDS and genocide.
Visitors will be able to turn the crank to generate electricity and hear African radio broadcasts.

My favorite quote related to this project came from 13 year-old Mukakrimba:
"My most important thing I owned used to be my goat, now it is my radio."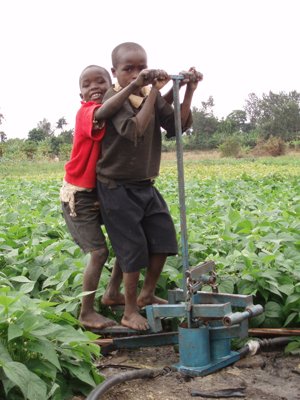 The Super MoneyMaker Pump is a low-cost ($75) human-powered water pump activated by a simple stair-stepping motion. No fuel or electricity is required.